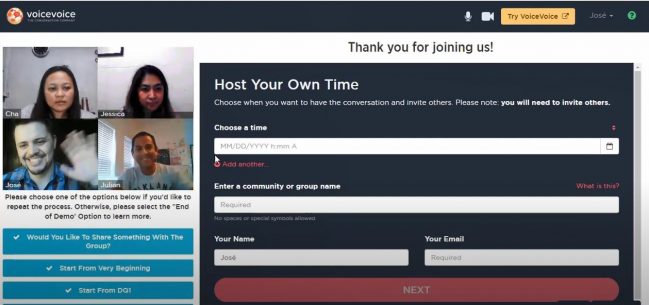 Reading Time:
4
minutes
VoiceVoice Product Updates: April 2021 Edition
Our thoughts and prayers continue to go out to all of our customers who are the backbone of our society – stay strong, stay safe! In the meantime, our engineers will continue to do what we do best, and that's improving the VoiceVoice platform for virtual roundtables. 
Here are some of the features and improvements we've added lately…
Launch Virtual Roundtables FASTER (Start from a Template- Not from Scratch)
We've made it A LOT faster and easier to launch your virtual roundtables with the introduction of our new Design Templates! 
New users will be able to find our new "Community Building" template inside of their Conversation Designer accounts. 
This template is ideal for projects that are focused on getting people talking to each other, networking, and building rapport at any time, 24/7. (For inspiration, here are some ways orgs are using their VoiceVoice virtual roundtables to build community.)
And we will soon be sharing templates for Training, Virtual Roundtables for Conferences, Engagement and more- stay tuned. 
Would you like us to add the Community Building template to your account? Ping us at support@voicevoice.com and we'll add it to your account.
(Note: these templates have been our #1 most requested feature from customers and prospects alike, so thank YOU for your feedback, please keep your suggestions coming).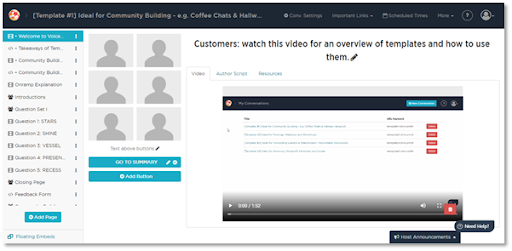 Speak to All Your Breakout Groups at Once- Introducing Large Group Mode (aka "VoiceVoice Broadcast")
This feature allows the host to engage up to 1000 people simultaneously (i.e. multiple, parallel, virtual roundtables). 
Hosts now have the option to put participants in their small groups -> bring all participants into the "main room" -> then move people back into their virtual roundtables.
You can make live video announcements to all active participants during their conversations, as well call on people (for example, to take shares across groups), chat, and share your screen. This feature is in "beta" and we're available to show you 1-1.
So contact us to schedule a time to demo Large Group mode ("Broadcast") in your account (included at no additional charge in our Enterprise Plan).
Allow People/Teams to Schedule Their Own Virtual Roundtables
VoiceVoice allows a whole variety of ways to enroll groups and individuals into your virtual roundtables.
Offer scheduled times for your attendees to register for, or provide them with the option to schedule their own times, or invite your community to host a private version of YOUR conversation with THEIR communities or professional groups or networks. 
Use the platform's "Host Your Own Time" feature and allow your participants to schedule a time with their own group- the link would be private to them and their group and anyone else they share the link with, and it will NOT be shown on the public registration page.
Host Your Own is one of our most unique, powerful features- the ability for your participants to have the same virtual roundtable experience (e.g. same intro material, discussion questions, collaborative google doc, etc.) that YOU have designed but with their own tribes at any time, allowing for the conversation to happen across all time zones and geographic regions, and enabling your series to reach into more communities.
 Click here to learn more about the public and private possibilities that you can provide for your users to engage.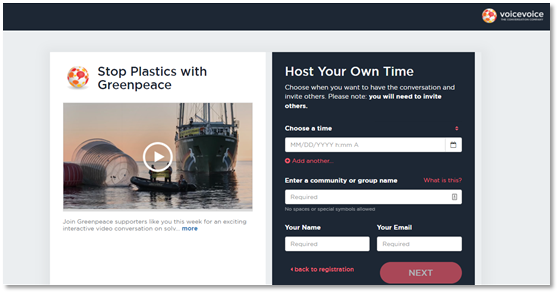 Global and Individual Conversation Timers ⌛
The Page Timer shows a small countdown timer at the top right of the screen during an active conversation and it is a great resource to manage the overall conversation time. Page Timers act as a reminder to the group to not spend too much time on any single page.
The user can set up individual page timers by adjusting a page's settings or globally through the Conversation Settings menu on the top panel.
These visible timers are in addition to "nudges" and time host announcements to provide the virtual roundtables with more structure and guidance.
To learn more about Timers, click on the "Learn More" option found on the Conversation Designer's timer fields.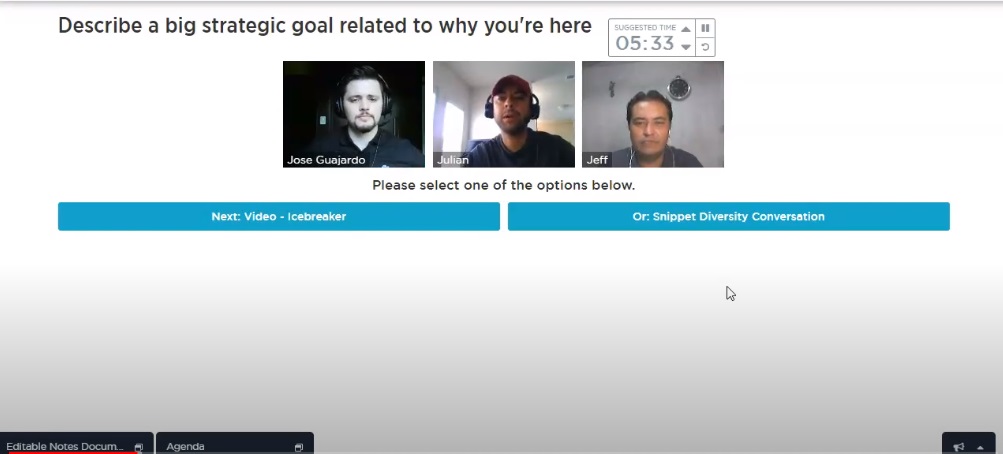 Customize the Button Colors to Match Your Brand
Choose button colors within the Conversation Designer. Allows you to emphasize or categorize navigation buttons, ("click the blue button to proceed to the next page"), or match the color of your slides or brand.
This feature can be selected simply by clicking on any page's "add button" option and then customizing the button color field or by choosing to edit a button.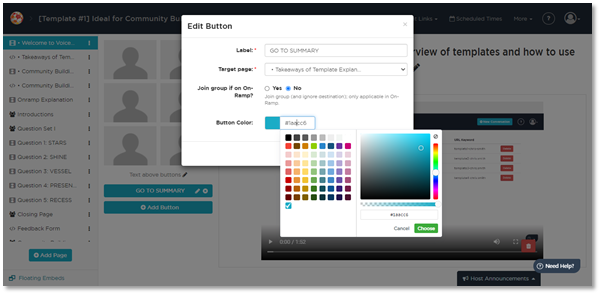 Microsoft Edge (Chromium) Browser Compatibility 
Another top requested features: VoiceVoice has added Microsoft Edge (Chromium-based) to its supported browsers, giving participants more choices when joining events.
New Landing Page Redirect- Take People to Your Next Registration Page or Homepage 
When your last scheduled conversation ends, or your series has ended and you're preparing for your next series of virtual roundtables, you now have the option to redirect people to a new/different landing page when they click your conversation URL.
For example, you can set your redirect so that your registrants are taken to another registration page for your next upcoming conversation series, or redirect people back to your brand's homepage.
To access this feature- click on the "Schedule Times" option on the top panel, add a URL of the user's preference into the "Redirect to URL when no times available:" field and then click the save button on any designed conversation.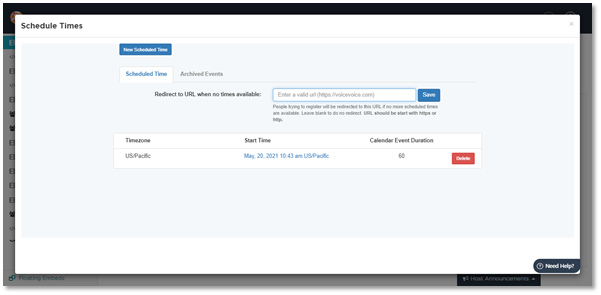 VoiceVoice is in Production! (Out of Beta)
You may have noticed several weeks ago we removed the "beta" label from the URL. We're delighted to report that customers and participants are finding the app to be very reliable and relatively issue-free on most browsers.  (We do still recommend Chrome, and a full screen for the best experience, but it's workable on mobile.)
Get In Touch!
We'd love to hear from you! If you have any other suggestions or questions, drop us a line at support@voicevoice.com or check out our help center.
Click below to view past product updates: