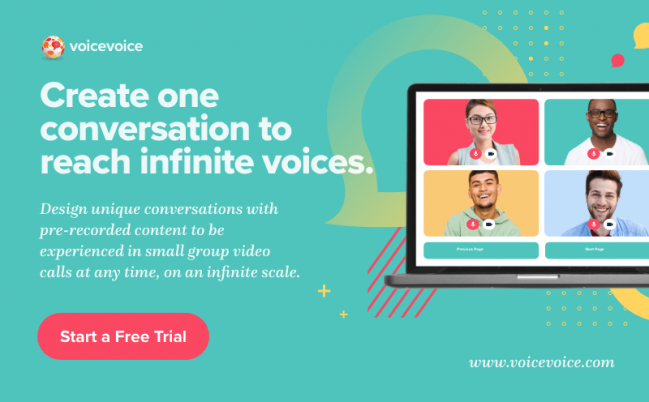 Reading Time:
4
minutes
VoiceVoice Product Updates: July 2021 Edition
We're frequently launching enhancements to the platform, and in July, we introduced a bunch of new features aimed at making it easier for hosts to launch video breakout groups, quickly. Check out our latest upgrades for VoiceVoice virtual roundtables and breakout groups below.
Built-in Facilitation: Lead Your Breakout Groups Without Needing a Leader in Every One 
We've introduced a suite of built-in facilitation tools that you can use to host more breakout groups without needing to hire more people to attend/lead each group. 
Using our automated facilitation features, you can provide built-in guidance across all breakout groups to make for more productive, efficient small group conversations, no matter when/where they happen.
Automated Facilitation features include:
Timers: automatically suggest to the group how much time to spend on each topic/page of the conversation. The group can also pause/restart/modify the timer.

Announcement Messages: Show timed automatic, chat-like messages or popup screens to the group at any point during the conversation.

Group Slowdown/Nudging: automatically detect when the group is moving too fast or taking too much time on any single topic and trigger a message to slow down or speed up.

Rules: control the conversation flow using "If This Then That" type rules.

Individual Mode: temporarily break up the group and ask participants to perform certain actions individually (e.g. signup, donate, buy, etc.).

Inactivity Timeout: automatically detect and disconnect any participant that has been inactive for a certain amount of time.
See the list of all features here.
All-New Conversation Designer Dashboard: Get People Talking in Minutes 
We've totally revamped the dashboard in your Conversation Designer, making the overall experience of designing, editing, and launching your conversations simpler, quicker, much more seamless. 
By adding multiple templates (based on past successful conversations) and the ability to make copies of your existing designs in less than 10 seconds, we've introduced multiple ways for you to get your community talking faster. Click here to take a look.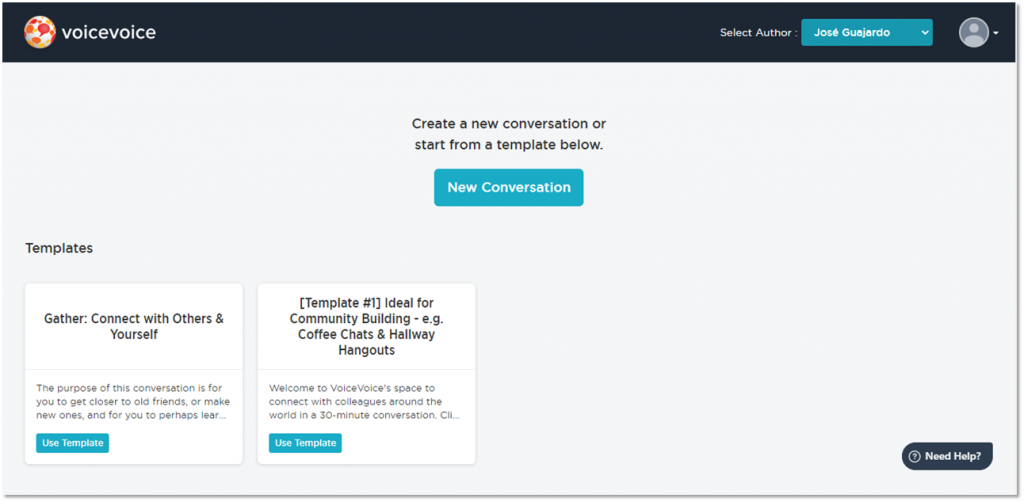 "Share Website with Group" Feature: Get Everyone on the Same Page 
Your participants may want to share a URL, Google doc, website, or any other online content with their breakout group. You as the host may want to allow this, and even encourage it during certain stages of your designed conversation (e.g. an instructional prompt to "Share your work" or a discussion question "What's your favorite inspirational YouTube video?"). 
This is now possible through the "Share a Website with the Group" feature on VoiceVoice.
When you enable this feature, participants can simply click "Share URL with group" (under their username in the top right corner), paste a link and share online content with their group. 
To enable it as a host, select your conversation, then Conversation Settings and check the "Show a website with the group" box found on the Advanced tab.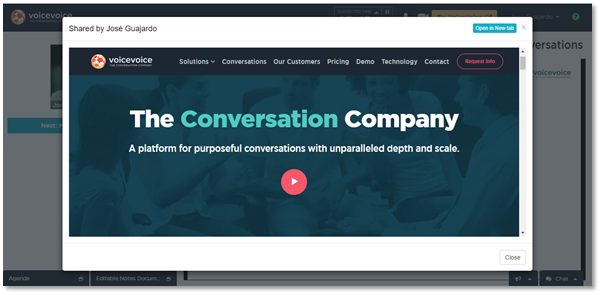 Embeddable Registration Page: Take Registrations on Your Site (Not Ours) 
Publicize your VoiceVoice event series and send your online traffic to your website,  take registrations directly on your website (and not VoiceVoice's) with the Embeddable Registration Page.
The "Embed Registration Form Code" feature enables you to give your audience an instant, one-click option to register for your VoiceVoice events without ever leaving your website. 
To access this feature: go to the Conversation Designer, select your conversation, click on Conversation Settings, select the Advanced tab and copy the HTML code found on the "Embed Registration Form Code" field. Paste it into the HTML code of your site where you want the registration form to appear and customize the size of the form by changing the width and height values.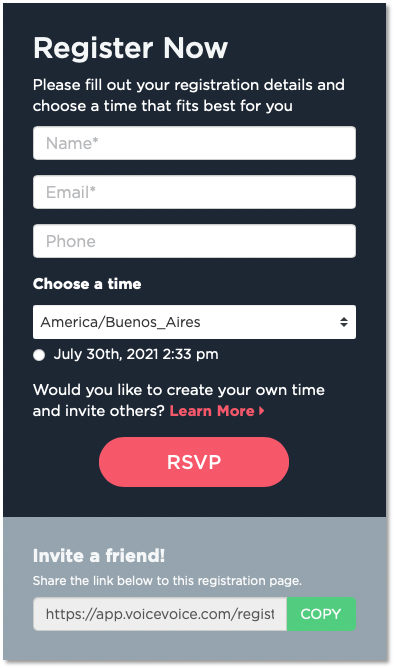 Better, Easier Password Management 
You no longer have to contact the VoiceVoice support team if you forget your VoiceVoice login or need to reassign your account credentials to someone else on the team.  
Managing your login credentials is as easy as going to the account login page and selecting  "Forgot your password?" to receive a password reset link with instructions via email.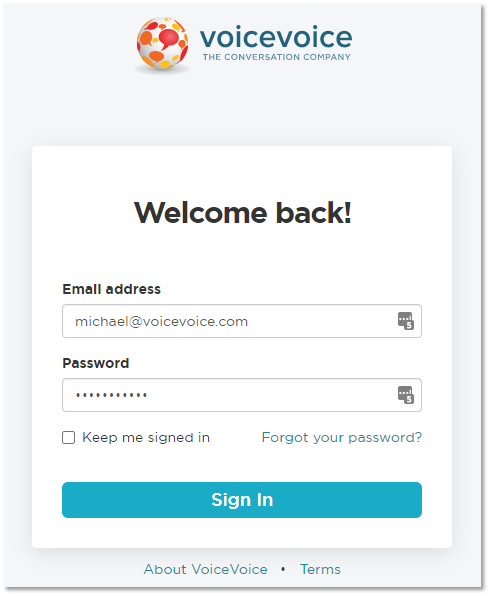 Check Out the Shiny, New VoiceVoice Website Redesign 
If you haven't visited the VoiceVice website lately, come check out the brand new site redesign, revamped from the ground up.
Same company values, mission and direction, but thanks to multiple UX design teams from our friends at Springboard, we've done a 180 on the website design- from the colors/fonts/styles to the list of benefits, from the brand positioning to the unique value proposition (i.e. the "what makes VoiceVoice so unique").
Check out the features, case studies, and simplified pricing options.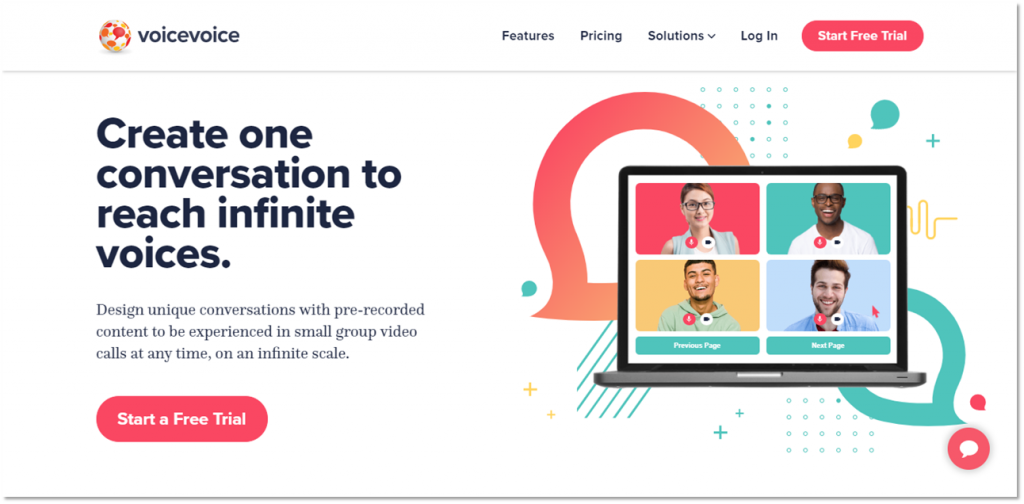 Create Your Account Instantly: New, Easier, Faster Signup ⌛
We've enabled the possibility for customers to create their account and start working on their conversation design in less than two minutes. Choose a pricing plan (or sign up for a free trial), add contact and billing information, and boom- you'll be taken directly to the VoiceVoice Conversation Designer dashboard, complete with premade templates to help you get your community talking in minutes (per above). 
Get In Touch!
We'd love to hear from you! If you have any suggestions for which features you'd like to see us develop next or questions about this latest release, simply hit reply to let us know or drop us a line at support@voicevoice.com. 
Click below to view past product updates: