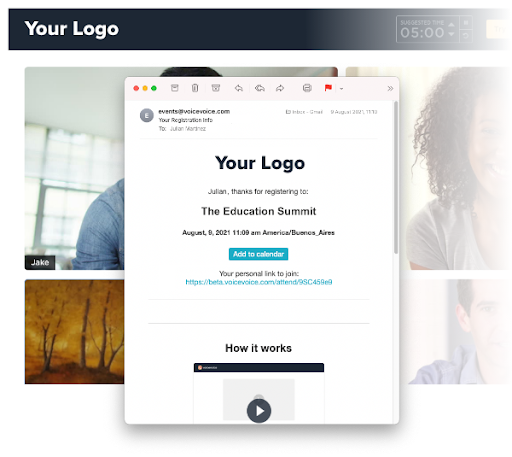 Reading Time:
2
minutes
VoiceVoice Product Updates: August 2021 Edition
Summer may be soon coming to an end, but development of our virtual roundtable platform is not (not even close, actually). Our team continues to expand, improve, enhance the VoiceVoice platform, with new features in August focused on giving customers more options for branding their events and giving participants a better event experience.
Check out our latest upgrades for VoiceVoice's virtual roundtable platform below.
White-Label Your VoiceVoice Account ™️
Build your brand through your VoiceVoice events by putting your branding and logo front and center with VoiceVoice's new White Label solution. 
With the option to White Label either fully white labeled or co-branded, you can replace the VoiceVoice logo with your company's logo- in your events, registration pages and emails- and present the overall experience to your participants under your own brand name. 
To learn more about the new White Label option for your VoiceVoice virtual roundtable platform, message us at sales@voicevoice.com or grab a time to speak with us here.
White Label: Co-Branded Registration Page [example]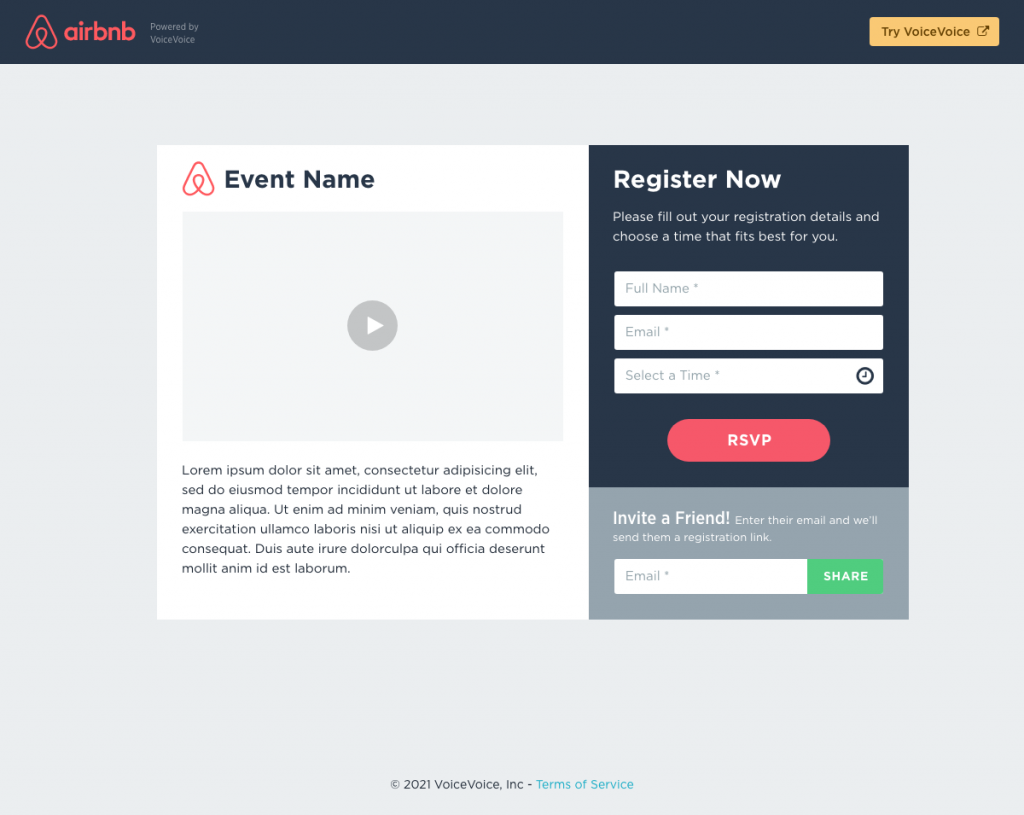 White Label: Co-Branded Registration Email [example]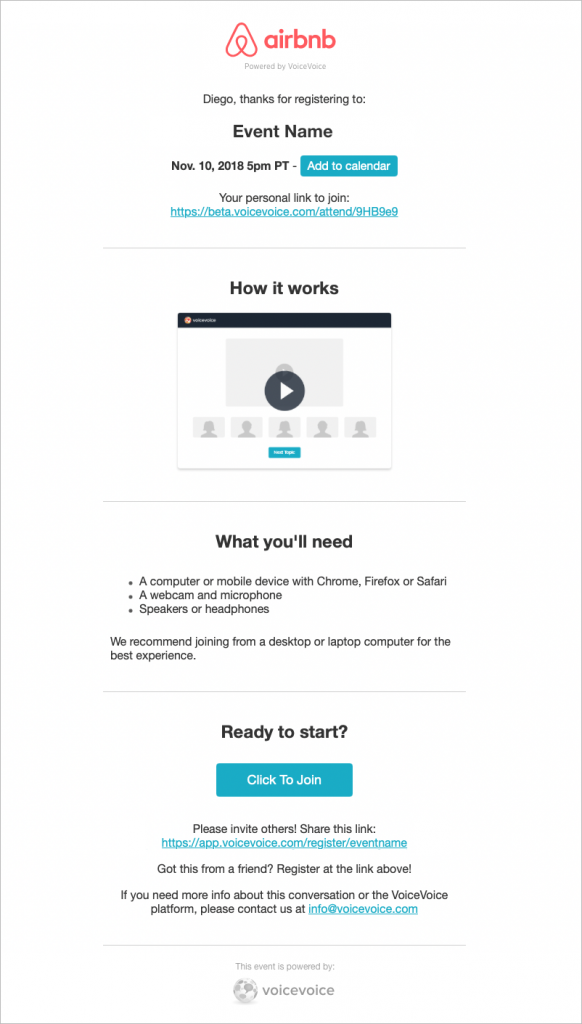 White Label: Co-Branded Virtual Roundtable Platform [example]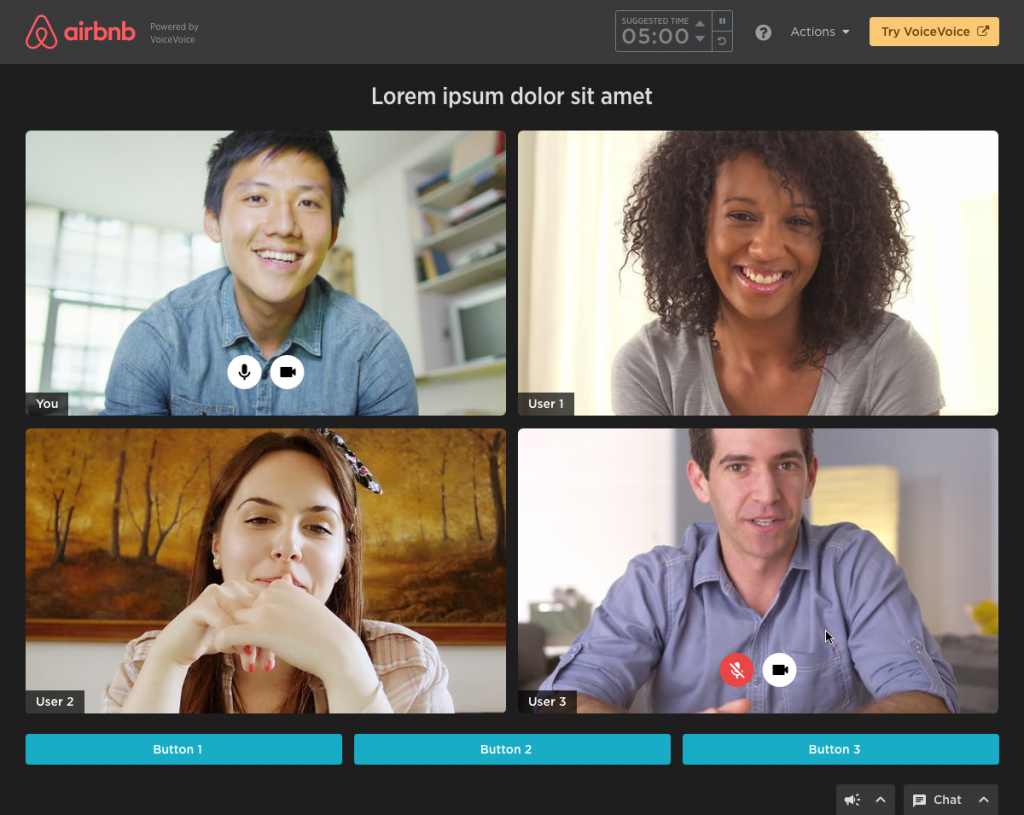 All-New Dark Mode Experience 
Our design team has been hard at work to enhance the overall user experience for participants and their breakout group discussions. 
One of those improvements- introducing the new "Dark Mode" for your participants. 
The "Dark Mode" setting highlights the participant webcams, bringing more of the focus to the people in the group and putting their conversations front and center.  
"Dark Mode" is set as the default theme, and participants have the option to toggle back and forth between Dark/Light mode by clicking the small gray icon in the top nav bar (to the left of the green ? in the screenshot below).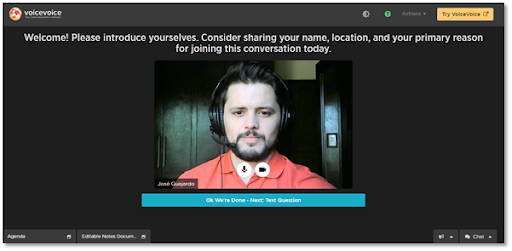 Better, Nicer Webcams
The Executive Director of a leading advocacy organization recently jumped onto VoiceVoice and said "this platform looks phenomenal!!"
Come see for yourself- your participants are in for a new, improved user experience. 
The webcams are now bigger with softer borders, the video feeds are sharp and clear. 
We've also moved the mic and webcam icons out of the nav bar and placed them directly within each participant's webcam frame so that turning on/off your webcam and muting/unmuting your audio is much quicker and easier.  
Want to easily, quickly jump in to see the new user experience on VoiceVoice? Check out this sample conversation https://app.voicevoice.com/start/your-new-gather. Note: it's meant to be a solo experience, so click "Join" when you're ready and you'll instantly be put into a private conversation set for one person (i.e. just you, no one else will be there).   
Get In Touch!
We'd love to hear from you! If you have any suggestions for which features you'd like to see us develop next or questions about this latest release, simply hit reply to let us know or drop us a line at support@voicevoice.com.
Click below to view past product updates: