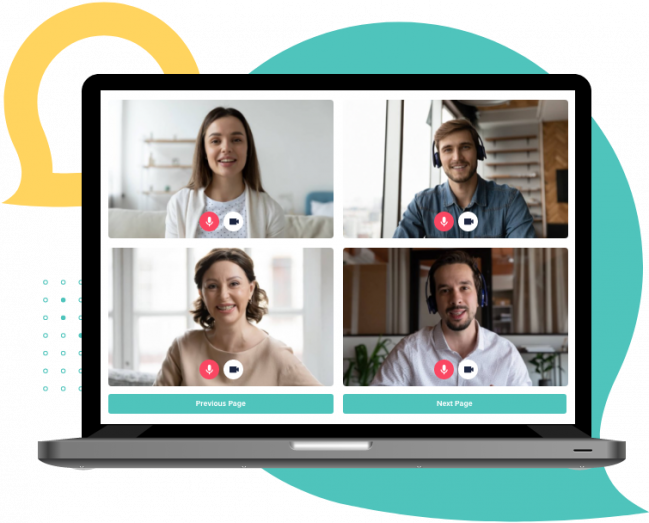 Reading Time:
4
minutes
I hope you're off to a splendid, productive start and as we approach the end of 2022's first month, your resolutions are still being resolved=)  
As we get into a new year, we'd like to take a moment to reflect on the last one and share some of the things that we're proud of at VoiceVoice. 
2021 was a big year for our customers, partners and their participants. You all hosted thousands of participants to great reviews- average 4.5-star rating from participants about their VoiceVoice experience, 90% of people who joined a conversation said they would attend another event.  
Your participants connected with your orgs, your communities, and with other people about diversity & inclusion, people training, climate awareness, sales training, and casual watercooler-type chats, among many other conversation topics. 
We're proud of the many deep, meaningful conversations and connections the VoiceVoice platform was able to facilitate. Thank you for allowing us to be a part of your community's journey last year. 
2021 was also a big year for the VoiceVoice technology. More orgs started using VoiceVoice to offer a "social experience with elearning" for their people training needs. And the platform was by far the most reliable it's ever been- 99% of all groups successfully joined and connected with other people on the platform- and officially moved out of "beta." And it's getting great reviews- check out what people are saying about VoiceVoice on G2.  

In case you missed them, we're highlighting some of the biggest, most frequently requested new features that we introduced on VoiceVoice last year. 
Screenshare Now in VoiceVoice
Screenshare adds a whole new layer of use cases for those orgs that want to use VoiceVoice for video meetings and live remote collaboration (in addition to the asynchronous, facilitated sessions across time zones without the need for a live facilitator that truly sets VoiceVoice apart from other virtual event platforms). Learn more about screenshare, one of the most requested new features, available in all VoiceVoice accounts.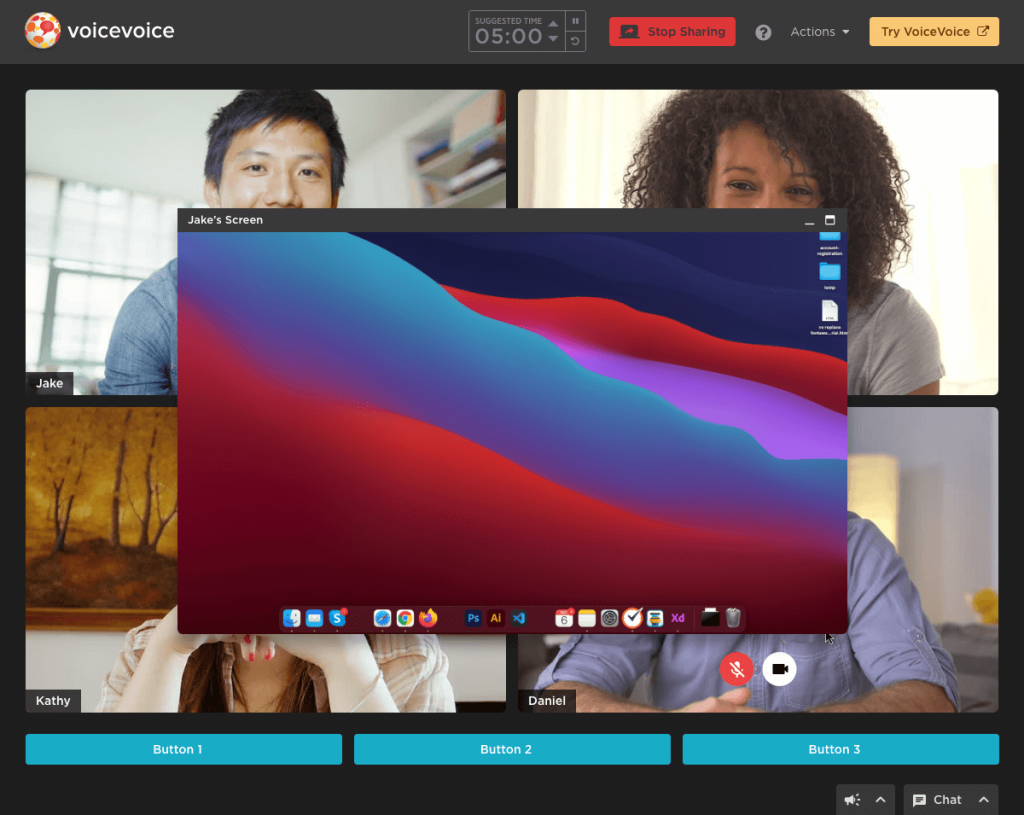 White Label Your VoiceVoice Account
Make your events stand out by putting your branding and logo front and center with VoiceVoice's new White Label solution. 
With the option to either fully white label or co-brand your account, you can replace our logo with yours and present the overall experience to your participants as your own unique platform, under your own brand name. Learn more about white labeling here.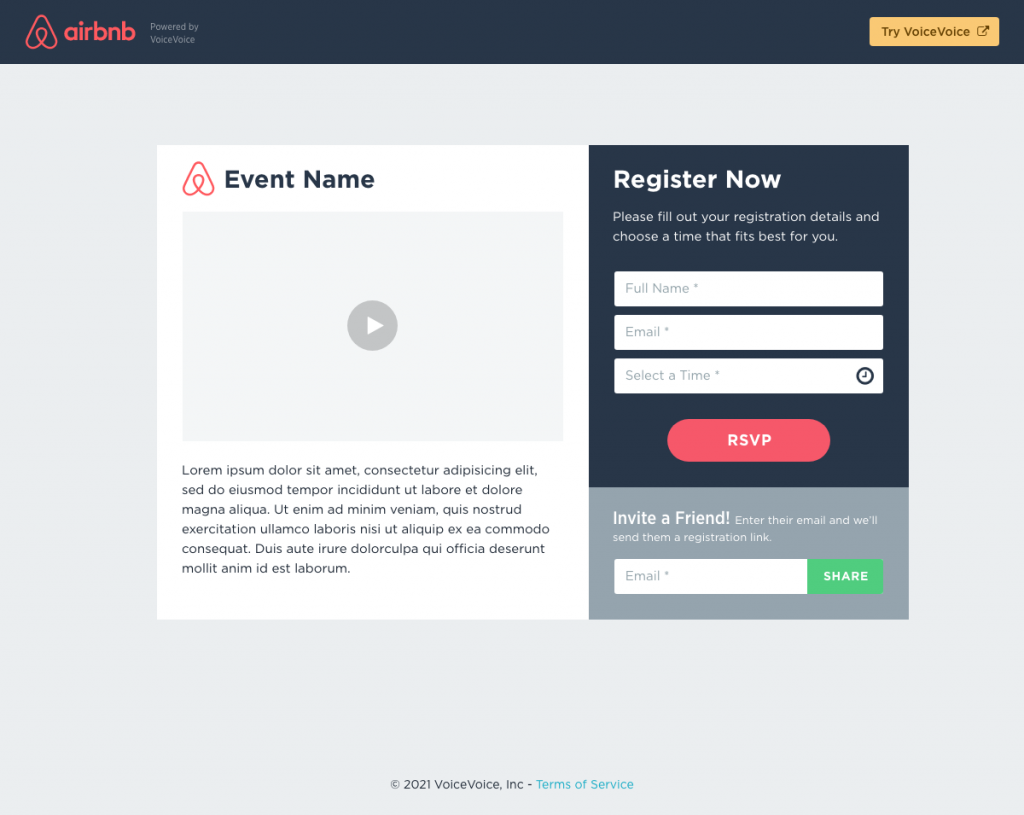 Integrate Mentimeter, Slido, Typeform & Other 3rd Party Apps in VoiceVoice
Many of your favorite third party apps can be integrated into your VoiceVoice event.
Whether the goal for event is remote collaboration, group work, note taking, idea generation, polling, collecting surveys or feedback, taking optins, game-based learning, audience interaction, brainstorming or crowdsourcing, there will be an app that you can integrate into your VoiceVoice design to meet those goals. Learn more (and see for yourself) about 3rd party app integration here.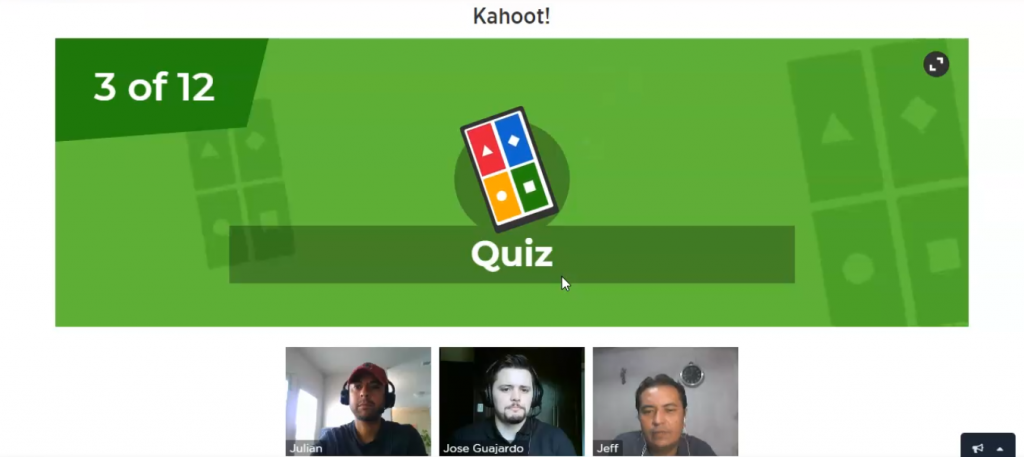 For Conference Hosts: Present to All Breakout Groups with Broadcast ("Large Group") Mode
For those times when you're planning a more traditional live conference event (as opposed to the asynchronous video conversations VoiceVoice enables), VoiceVoice's Broadcast or Large Group mode allows you to engage up to 1,000 people simultaneously.
Present "from the stage", host a panel of speakers, give a keynote or deliver your presentation to the whole audience and then break them into their small groups for the video breakouts. Learn more about one of our most powerful new features, Broadcast/Large Group mode here.
For Facilitators: Automated Facilitation 
Lead your breakout groups without needing a facilitator in every group by leveraging VoiceVoice's suite of built-in facilitation features.
Using our automated facilitation features- visual timers, rule-based event flows, timed announcements and more- you can host- and yet still guide– more breakout groups in more productive small group conversations, without needing to hire more people to lead them. Learn about built-in facilitation tools here.
For Event Leaders: New Conversation Designer Makes Launching an Event Fast & Easy
We introduced pre-designed, pre-populated event templates plus the ability to create copies of your existing conversation designs in less than 10 seconds, giving you multiple ways to get your community talking on VoiceVoice faster. Learn more about the all-new Conversation Designer here.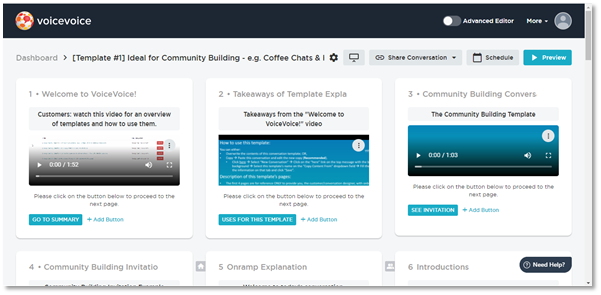 Host More Participants with Bigger Max Group Size (up to 50 People/Group)
VoiceVoice now allows you to create "small" groups of up to 50 people per group. 
Turn your guided "conversations" into guided breakout groups, meetings, training sessions or workshops that can take place across time zones and geographic regions. Learn more about bigger breakout groups here. 
Live Monitor: A Better, Easier, More Effective Way to Manage Your Breakout Groups
As the event host, you can use the Live Monitor to split your audience into smaller breakout groups, or move your participants between breakouts, mix and match the groups, create new breakouts within existing ones, end groups altogether, chat with them, send them a host notification, kick participants out.
Learn more about the Host Live Monitor here. 
"Host Your Own Time": Invite Your Participants to Host Your Event with THEIR Community
Host Your Own Time is one of VoiceVoice's most unique, powerful features- the ability for your participants to have the same virtual event experience (e.g. same intro material, discussion questions, collaborative google doc, etc.) that YOU have designed but with their own tribes at any time, allowing for the conversation to happen across all time zones and geographic regions, and enabling your event series to reach into more communities. 
Learn more about this powerful, very unique new feature "Host Your Own Time" here.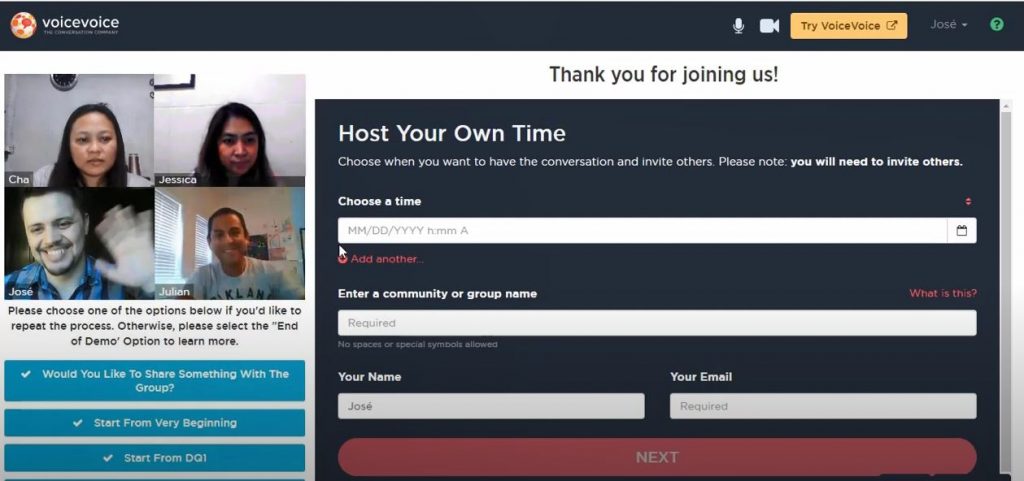 What's Next for 2022
The growth of the VoiceVoice platform isn't slowing down any time soon. We'll be announcing new features that have already been quietly released recently, including automatic event recordings, improved registration pages, new design templates, updated timers and automated regrouping (to be released this month- this is a BIG ONE and will allow for hosts to truly put their VoiceVoice events on autopilot). 
Stay tuned for those feature announcements later this month.  
Conclusion
Those are just some of the highlights from last year- we released MANY more new features and enhancements in 2021. 
We're happy to share what we've been learning from facilitators, trainers and event professionals using VoiceVoice to engage their global communities. 
So if you'd like to catch up on all that's been added, feel free to book a time to meet with our product lead, Jose, to walk through the platform together (and/or if you prefer to read about the new features, here's the list of product updates).
We'd love to hear what your team has planned for 2022 and how VoiceVoice can help you achieve your resolutions this year.