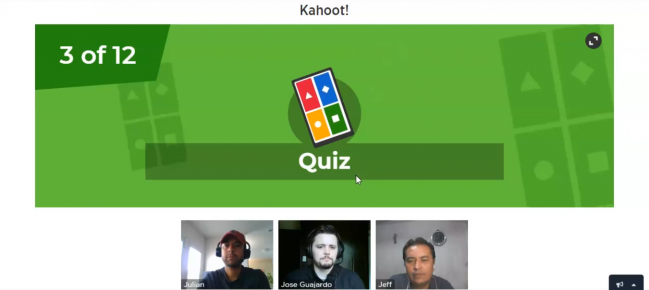 Reading Time:
3
minutes
VoiceVoice Product Updates: June 2021 Edition
We're frequently launching enhancements to the platform, and this month, we are excited to share our latest- and arguably BIGGEST- upgrades for VoiceVoice virtual roundtables and breakout groups.
Integrate VoiceVoice + Your Favorite Third-Party Apps
If you're looking to take the interactivity and engagement of your VoiceVoice conversations up a notch (or five), you'll want to check out this new feature: third party app integrations. 
Kahoot, Slido, Mentimeter, Typeform, YouTube Live (for live streaming), GroupMind and MANY other 3rd party, cloud-based applications can now be incorporated into your VoiceVoice event (we're frequently adding more integrations to the list).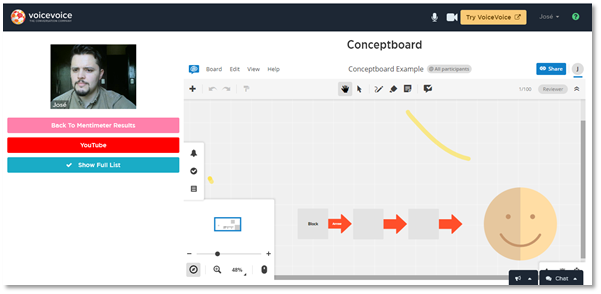 Whether the goal for your breakout groups is remote collaboration, group work, note taking, idea generation, polling, collecting surveys or feedback, taking optins, game-based learning, audience interaction, brainstorming or crowdsourcing, there will be an app that you can integrate into your VoiceVoice design to meet those goals.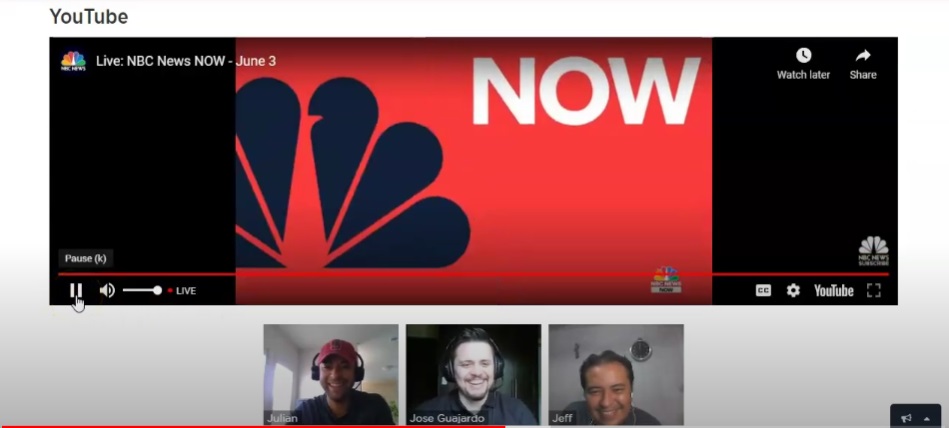 If you want to see some examples of how these app integrations look, we've created this VoiceVoice demo conversation. Wondering if the app you use will work within VoiceVoice? Message us at support@voicevoice.com and tell us which apps, we'll take a look and let you know. 
Host More Participants with Bigger Max Group Size (up to 50!) ⬆️
One of the most requested features- you've asked for bigger group sizes (more than 9 participants/group).
We hear you- we've significantly increased maximum size of breakout groups. VoiceVoice now allows you to create "small" groups of up to 50 people per group.
Turn your guided "conversations" into your guided breakout groups, meetings, training sessions or workshops that can take place across time zones and geographic regions. 
Design a meeting with instructional prompts and group activities for your team in North America and then send the URL to your Australia team so they can receive the same meeting guidance without you needing to attend and lead. 
You can set your breakouts' maximum group size from Conversation Settings menu within the Conversation Designer.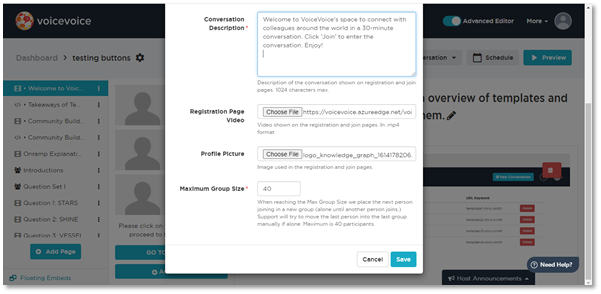 See Your Participants Better with Bigger Webcams 
Being able to see each other clearly on video is important when we're connecting in a virtual environment- we all realize that now. And the clearer, better we see each other online, the easier it is to make that connection- which is why it was important that we increased the size of your participant webcams. 
This upgrade to bigger webcams means your participants get a fuller view of the user interface and an overall more engaging user experience for the breakout groups. (Note: what your participants see on screen may vary based on their screen dimensions and the number of participants in their group.)
Manage Your Breakout Groups More Effectively- in Real Time
Manage/move/mix your breakout groups- live, in real time using the Live Monitor in your VoiceVoice account. 
Those larger breakout groups (up to 50 ppl/group) we just mentioned? You can split them into smaller groups, or move your participants between groups, mix and match the groups, create new groups within existing ones, end groups altogether, invisibly watch them, chat with them, send them a host notification, kick participants out.
Using your Live Monitor, managing your breakout groups is as simple as selecting the people you'd want to move into a new group and clicking 'new group'.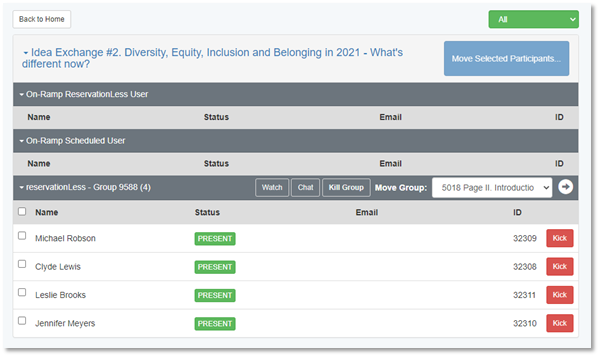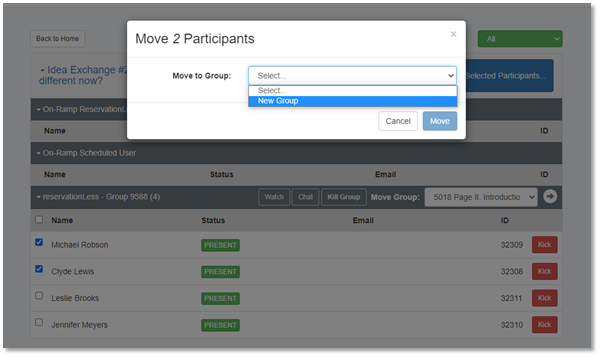 Get People Talking in Minutes- Introducing the All New Simple Editor for the Conversation Designer
Get your community talking, quicker and easier- creating your VoiceVoice conversations just got a whole lot simpler.  
We're very excited to introduce a new, more compact version of the Conversation Designer. The new Simple Editor allows you to have a clear, comprehensive view of all of your conversation pages along with their button destinations in one window.
Edit discussion questions, rename buttons, drag and drop tiles to update the flow of the conversation design, swap out videos or group activities, all from the same single view. If you've used other drag/drop/edit tools (e.g. PowerPoint's Slide Sorter view), we think you'll find the new Simple Designer more intuitive and well, simpler, to use. 
And you don't have to commit to one view for your conversation design experience, feel free to move back and forth between the Simple and Advanced Editors by simply clicking on the toggle switch of your conversation's top right corner.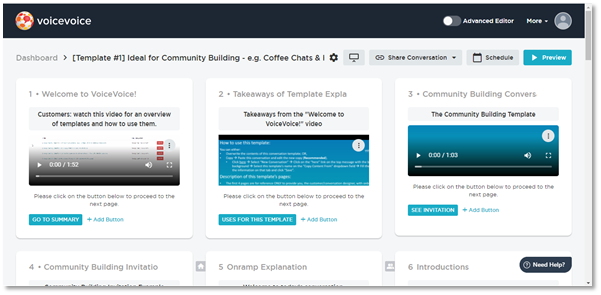 What Participants are Saying About Their VoiceVoice Breakout Groups
Every week, we're hearing/seeing more and more people experiencing VoiceVoice for the first time. And we LOVE when we get feedback like this- it's a small step in achieving our mission to bring purposeful small group conversations to the world.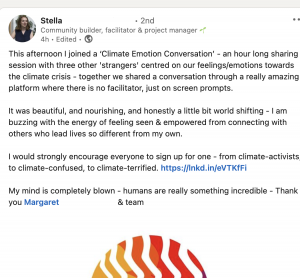 Get In Touch!
We'd love to hear from you! If you have any other suggestions for which features you'd like to see us develop next or questions about this latest release, simply hit reply to let us know or check out our help center.
Click below to view past product updates: