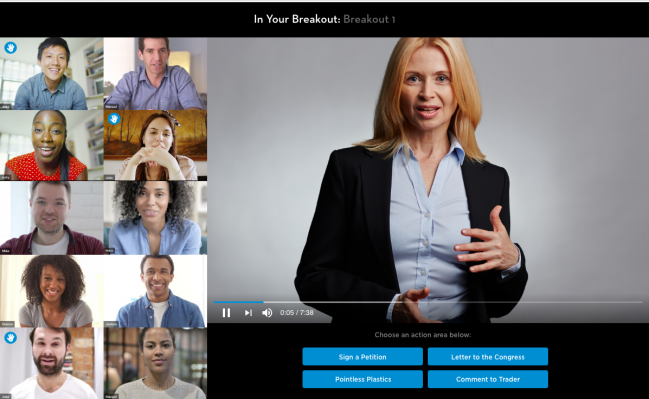 Reading Time:
5
minutes
We're in the midst of rolling out our biggest product launches ever on both of our platforms, VoiceVoice and our first platform, MaestroConference (now with VIDEO), including the most robust/flexible video breakouts and the ability to have Guided Breakouts + No-Host, Autonomous Breakouts (ours is the only technology capable of this; see "VoiceVoice: now also integrated within MaestroConference Video" below to learn more). 
Here are some of the (many) features and improvements we've released on the VoiceVoice platform since our last update, starting with our biggest, most significant/powerful new development…
Live Events + Asynchronous Video Meetings- VoiceVoice Now Integrates Within MaestroConference Video (Guided Breakouts)
This is major- VoiceVoice can now be integrated within a live event (!) on MaestroConference Video, meaning hosts now have the option to host your live event on MaestroConference, and for those registrants who can't attend the live event, you can offer asynchronous video events hosted on VoiceVoice. 
As you may know, with VoiceVoice, you can connect communities of like minded people in guided, face to face, live video conversations, without the host actually needing to attend (aka "No-Host, Autonomous Breakouts"). 
And now, these guided small groups can be done within the new MaestroConference Video product as well. This means you can host a live event, set up breakouts, and each breakout can get the guided VoiceVoice sequence for their group. These new "Guided Breakouts" are the crowning jewel for engaging many parallel small groups. 
What the VoiceVoice + MaestroConference integration means for virtual meeting hosts: This integration of VoiceVoice within MC Video creates a unique solution that combines live events with prerecorded options for asynchronous sessions so that orgs can deeply engage groups of people on their own schedule (24/7) without requiring a host to attend and lead every event. 
Host events that can scale across time zones and geographic regions without needing to staff every session.
Host more events, NOT hire more people. 
To learn more about these powerful new features, click here:
Want to see this VoiceVoice + MaestroConference Video integration in action? Feel free to grab a demo time that works for you here. 
Bonus: with the official launch of the all-new MC Video, customers get a VoiceVoice account included at no additional cost. Find details here.
Introducing VoiceVoice Broadcast Across All Small Groups
People who've demoed VoiceVoice LOVE the small group video conversations, but most of you have wanted/needed the ability for the host or speakers to present, speak and instruct across all groups from the "main room/stage."
We're now proud to introduce this powerful new feature- VoiceVoice Broadcast.
Hosts now have the option to put participants in their small groups -> bring all participants into the "main room" -> then move people back into their small group conversations.
What VoiceVoice Broadcast means for online event +  virtual meeting hosts: This feature allows you as a host to make live video announcements to all your active participants during their conversations, across all groups simultaneously. You can also call on people (e.g. one person per group, or those that raise hands) to take shares across groups, chat, and share your screen. 
The use cases are endless, and no other platform on the market is capable of doing this.
We're working on the marketing materials and support documentation for this soon-to-be-publicly-released feature, so for now, if you'd like more information on how to use VoiceVoice Broadcast, schedule a demo or contact us via email.
Host More Events, NOT Hire More People – with "Host Your Own" Feature
One of the most powerful features of the VoiceVoice platform is the ability for people participating in your event to host their own time for their unique community or industry.  
This option to "Host Your Own" time means your participants can decide when and with whom they will invite to have the conversation you've designed. Those times are not publicly posted, they're only available to the people who have the link.
Your participants can now invite and connect with the community of their choosing, on their own schedule, in private. They can localize your conversation to their own interest group(s), making the conversation more relevant and specific to them and leading to a more engaging, memorable experience for your participants, which in turn makes it more likely that your participants will share your event with their networks.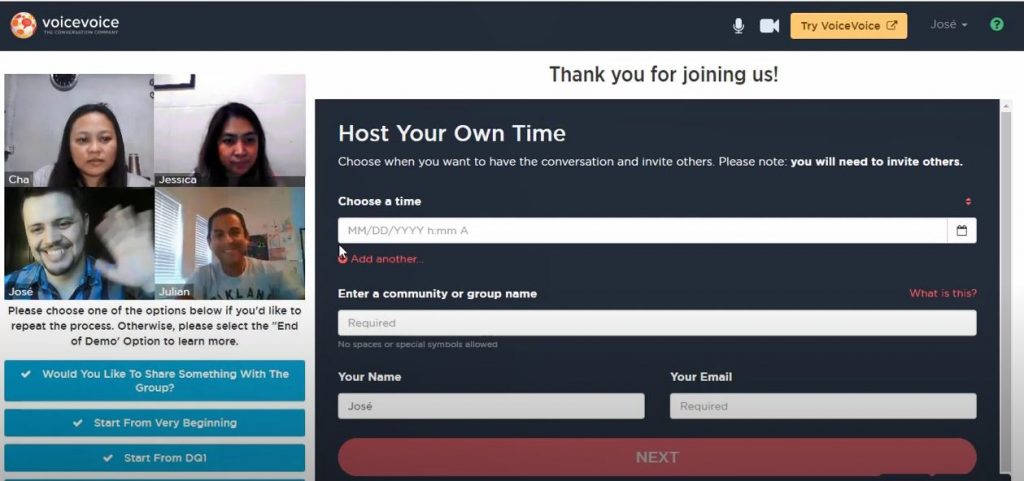 What the "Host Your Own Time" means for VoiceVoice customers: For you as the host, the "Host Your Own" feature means your event (and in turn, your brand) has the potential to be introduced to infinitely more communities and reach well beyond just your audience. 
And the platform is built so that expanding your conversation into new communities can happen as "easily" as sharing a URL. 
For someone who leads employee training within a company, you can:
Schedule specific times for specific groups of people you want training together;  

Share the link with employees and allow for them to self-select their groups and schedule their own training times; and/or,
Distribute a scheduling link to managers and instruct them to schedule their own private times that work for their team so that the training department doesn't need to be involved.
For someone trying to promote their brand or organization and get traction with the public, you can:
Widely broadcast a public link; 

Allow anyone to invite a community (or communities) and schedule community-focused times for only that group; this link now becomes a relevant event for a particular community (e.g. a linkedin group, association, or facebook interest group) and members of that community have a chance to come together among themselves in the context of this topic;
Market to a broad set of different communities by inviting and sending a specific link unique to each community.
And all of these meetings or workshops or conversations or virtual roundtables or small group video conversations or breakout groups (whatever format you're using) can take place without the host needing to attend and lead each one.
VoiceVoice allows a whole variety of ways to enroll groups and individuals into conversations. To learn more about "Host Your Own" feature and the (many!!) other ways you can invite your participants to your VoiceVoice events, check out this short video. 
Contact us if you have any questions about how you can leverage "Host Your Own Time" on your VoiceVoice account. 
Safari Browser Compatibility (iOS & Mac)
One of our most requested features: VoiceVoice has added Safari to its supported browsers, giving your participants more choices when joining your events. (Note: Safari also works with MaestroConference Video.) Supported browsers now include Chrome, Firefox, and Safari (though full disclosure- Chrome is still the most reliable browser, so we typically recommend participants join with Chrome on desktop/laptop for richest experience).
Microphone and Webcam Inputs
We now automatically prompt people to select the webcam and microphone feeds you'd like to use as soon as you enter a conversation (you can also change your settings midway through by refreshing your tab). This makes it much more straightforward for your participants to successfully, quickly join their small group conversation with ease.
Join a Virtual Roundtable
Not a new feature, per se, but if you're interested in participating in a virtual roundtable on the VoiceVoice platform, we've been convening thought leaders across sectors to come together and connect with other professionals to discuss the challenges and opportunities this past year's events have presented their industries and roles.  We welcome you to join and bring a thought to share with other leaders. You can find the list of roundtables here https://www.voicevoice.com/conversations
Get In Touch! (Or Get Support Help)
Questions about how VoiceVoice's Guided Breakouts are being used by other organizations to engage their communities virtually through roundtables, watercooler sessions, virtual meetups, or online training? Have you had a walkthrough of the platform's many features and/or would you like to see these new features in action? 
Feel free to drop us a note (support@voicevoice.com) or book a time to meet with our team. Or check out our help center.